Short Cuts
Starts June 19
Event Navigation
Ages 11-14. June 19-23, 1:00-5:00 pm
The perfect camp for the future director! Students will create two short films over the course of the week. You'll be introduced to the filmmaking process through an introductory artist's statement film, then add further production value in creating video poem shorts. You'll learn how to develop and storyboard a film idea, direct and shoot a production with professional gear, and edit with Adobe Premiere Pro on iMacs. No previous experience necessary.
Tuition: $240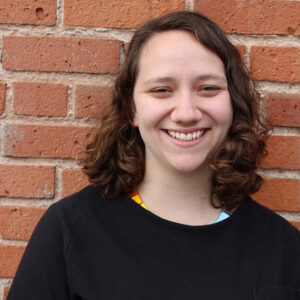 Lizzie Hutchins (she/her/hers) is a filmmaker, media educator, and CTEP AmeriCorps Program Manager. She has produced a feature-length documentary, an award-winning film for the 48-hour Film Project, and music videos for local Twin Cities bands. Her work has been featured in Altered Esthetics, MNKino, Cinema Lounge, Feminist Video Quarterly, and Video Variant. Lizzie enjoys reading, writing, snail mail, and exploring the city by bike and bus.
Camp Registration Guidelines & Cancellation Policy
Space is assigned on a first-come basis. Registrations must include payment in full. Registrations are accepted after registration deadlines if space is available.
If minimum enrollment has not been reached by 5 days prior to the start date of a camp, FilmNorth may cancel it, in which case registrants will immediately be notified and receive a full refund within 5 business days. A check will be issued for registrations that were paid by cash. In lieu of a refund, students have the option of applying their tuition to another camp if scheduled in the same calendar year.
For those wishing to cancel a registration prior to the registration deadline, 100% of the tuition will be refunded minus a $25 administrative fee. For registration cancellations received after the registration deadline but prior to the first camp session, 50% of the tuition will be refunded minus a $25 administrative fee. As of a camp start date, no refunds or credits/exchanges will be given.
Tuition is not prorated for missed camp sessions.
The FILMNORTH CAMP PARENT/GUARDIAN RELEASE FORM and FILMNORTH CAMP APPEARANCE RELEASE FORM must be completed and submitted prior to the start of the first camp session. A new set of forms must be completed for each camp. Please print, complete and return the two PDF forms below by: 1) emailing them to the

Youth Programs Director

;

or 2) mailing them via regular postal delivery to Youth Programs, FilmNorth, 550 Vandalia Street #120, Saint Paul, MN 55114. You may also bring completed forms with you when you check your child in the first camp session. Students are not permitted to attend camps without signed forms.
FILMNORTH CAMP APPEARANCE RELEASE FORM